Filcro Media Sports
Sports Media and Sports Management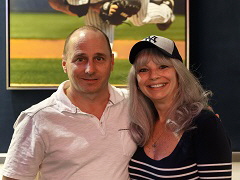 Filcro Media Sports provides a broad spectrum of global services to the sports industry for broadcasting, team management and media monetization interests. The firm facilitates the interests and business goals of the Fortune 50-500 and Unicorn Brands seeking sports industry synergies. Through media and communication programs, team management identification, league and venue monetization opportunities are optimized with our 360 Sports Synergies Programs.

Entities Served by Solid Relationships

TV Networks OTA & Cable, Digital Publishers, Radio Networks, Sports Leagues, Sports Teams, Sports Venues, Athletes, Athletic Agencies / Representation, Sports Events & Competitions, Sports Governing Bodies, Sports Media Libraries and Producers of Sports Media & Digital Content.

Filcro Sports offers a granular hands-on understanding of day-to-day venue, special event, broadcast and game-day logistics. In just one major market we serve globally, New York City, the firm has a proud history of serving Madison Square Garden, Yankee Stadium, The New York Rangers, The New York Knicks, The New York Yankees The New York Mets, Liberty Basketball and others to make "Game Day" a media reality. This tactical experience managing team and broadcast personnel on and off the field, makes Filcro Media Sports uniquely qualified to bring sports business goals and sports leadership talent acquisition to fruition expeditiously.

Filcro Media Sports has worked for and with the senior most management of the NFL, MLB, NBA, NHL as well as IMG Management, ESPN, CBS, HBO, NESN, YES, WWE and a proud history with Boxing and Extreme Sports. The Firm have transitioned and recruited sports executives through our executive search practice who currently mange the most successful athletes and teams in the world. Managing, marketing, broadcasting, promoting and operating multi-billion dollar sports entities requires those cut of very special cloth. Filcro Sports has a history of "Empowering Women" in the sports industry and supports many philanthropic efforts on and off the field. Filcro Sports has placed many of the first women to hold EVP level positions and above in the industry.

Synergies Across Industries

Automotive, Fashion, CPG, Cosmetics, Beverage, Travel & Leisure, Telecom, Entertainment, Financial, Technology, Pharmaceutical, PEG, QSR's and others for brand awareness, new product roll-out and general monetization. Filcro Sports brings the Fortune 50-500, "to the game".

Business Solutions Facilitated by Recruitment, Consulting & Relationships

Every sports business, technical and creative function is facilitated globally in each practice group to bring business goals to fruition, primarily through talent acquisition and sports management consulting.
Lead major strategic initiatives and global business development on behalf of sports interests.

Identify, evaluate and negotiate potential partnerships, acquisitions and growth opportunities

Focus on new business opportunities and strategic alliances that advance global footprint and brand portfolios

Analyze current state of the business, identify risks and opportunities, and develop go-forward action strategies and work plans

Maintain significant and complex strategic relationships with global partners

Negotiate new deals and drive business partnerships in the emerging technology and new social media spaces that work directly with consumers and consumer activation.

Attend international business conferences to source new opportunities

Work closely and cross functionally on strategic planning initiatives and deal execution deployment plans with Business Units, Finance and Sales and Distribution

Assess and evaluate marketplace conditions, competitive strategies and user data to both anticipate market dynamics and in a proactive manner recommend strategies that support business objectives

Provide thought leadership on new initiatives, business cases and projects that relate to global strategic planning and business development activities

Create and execute integrated marketing plans for partners.

Negotiation and business affairs

Reinforce relationships at the C-level across the globe with global corporate endorsement deals

Manage league, venue, team, game, athlete and all related broadcast, sales, marketing, operational and business objectives by recruiting the proper executives with substantial sports industry experience or managing the project internally.
Broadcast & Media
Filcro Sports executive search practice is devoted to sports media broadcasters and sports franchise broadcasting across all media platforms, globally. Recruitment for sports marketing, broadcasting, technology and monetization cover every regional, national and international sports environment and their relationships with general market industries that benefit from sports industry synergies.

Global media recruitment is facilitated within specialized practice groups that serve the business, technical and creative business goals of the sports and sports broadcasting industries across all platforms.
Selected Sports Business Goals Recently Brought to Fruition
Executive Vice President Sports
Global Licensing | Marketing | Sponsorship | Talent Management

Vice President Sports Programming
Programming | Production | Development

Sports Affiliate Marketing
Affiliate Marketing | Affiliate Special Events

Director TV Network Distribution BO&E
TV Network | Technology Operations and Engineering

Director Sports Cable Net Distribution
TV Network(s) Global Distribution | Multiplex Multichannel

Digital Sports Editor in Chief
Live Entertainment | TV | Consumer Products | Motion Picture
Filcro Sports supports KissMyKite for children's sports initiatives and Summer camps.
Filcro Media | Filcro Sports Group, All Rights Reserved © 1985-2019